Application.
Datsun 1200 (7001 - 7305)
Datsun 1200 ute (7510 - 9403)
Datsun 1000 (6604 - 7001)
Datsun 120Y, B210-B310 (7305 - 7710 - 8304)
*Available fit for round ports.
*A10/A12 engine for Solex/Weber/Dellorto/Sport twin carb.
This manifold is sport single carburetors for SOLEX/WEBER/OER/DELLORTO that fit the round ports of A series engine.
It's manifold made by alloy casting by redline.

PORTS SIZE(Approx)
Intake side:29mm.
Carbs side:40mm.
(Genuine head ports: A10-29mm A12-27mm.)

Include.
x1 Round Intake Manifold.
*Not include Fitting and insulators.

*Bprojects did several times tests in our B10, but there were not some cracks too.
*Please fit size to same ports with yourself. if your ports are the largest.
*When installation to A12, Do drilling to the center for studs by A10 manifold gasket use.
*Please plug to the water flow.
Figure1:(Not include Fitting/Insulators/Carburetor)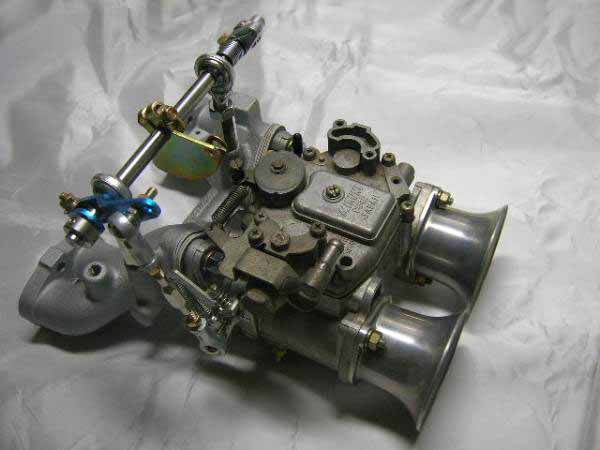 Add processing for mount.
Draw file:Download here
*ONLY: "Purchased Customer".
*DOWNLOAD: by 100% scale.。
The side hole pitch: around 99mm is ok.
1. Please download from upper web link.
Cutting by cutter to side circle.

*PLEASE take extra care using cutting tool as it is very sharp.。

2. Hollowed to both side that after.
Draw-paper put on cylinder head thread of both side.

*No problem: Please cutting to extra area.

Do punching to center circle.

3. Please confirm to punching.
If on. Do processing another side as well.
4. Please confirm hole place of punching to gasket.
If ok, Next make tapping in M8-P1.25.

*Need gasket: If A12 late model
(NEED: Manifold gasket for A10/A12 early model.)
*Need ADD Processing: Piug to water hole of the cylinder hard.
Brand(Q,R):
RED LINE PERFORMANCE (https://www.redlineauto.com.au/)