Please sign in so that we can notify you about a reply
適用:A10/A12/A14/A15

Application.
Datsun 1200 (7001 - 7305)
Datsun 1200 ute (7510 - 9403)
Datsun 1000 (6604 - 7001)
Datsun 120Y, B210-B310 (7305 - 7710 - 8304)
Datsun E10 (7010 - 7409)
Datsun A Series Engines. (A10, A12, A14, A15)

Include.
x8: Hollow Valve Lifters.

The high performance engine needs SPL lightweight valve lifter for more High RPM.
This lifter has a hollow structure inside that weight to achieve 24 grams.
Because The contact surface was designed to be large
Even if the remanufactured high spac camshaft uses can be increase contact area
and able to improve the durability.

The lifter body and head has a separate structure
but those parts was pressure welding and became one lifter.
This lifter increase durability and oil holdy because the manganese phosphate coating has to the surface.
| | | |
| --- | --- | --- |
| | Lifter OD (mm) | Weight (grams) |
| Kameari | 22.5 | 38.4 |
| Nismo | 21 | 36.4 |
| Nissan Genuine | 22 | 62 |
1. If You processed to the high spac camshaft there is base circle may become thinner than casting surface.
In that case, your camshaft add relief processing.
That processing, please processed like yellow arrow as broadly to left picture.
You need check contact surface of the camshaft and lifter/eight each.
and The lifter should move smoothly in position of the cylinder block.
2. Remove burr if necessary.
3. Please don't processing(lapping) to surface of lifter that cause damage
and come off the manganese phosphate coating.
Place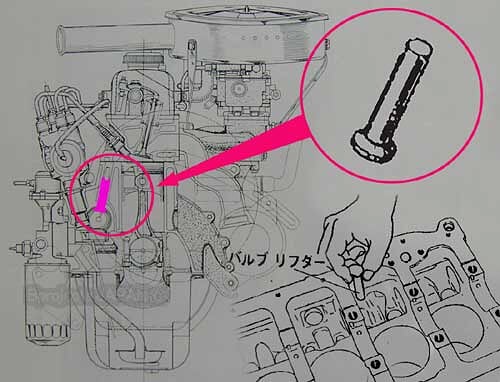 *This product has been designed for competition use only and is not to be used on any public roads.
Brand:
Bprojects (https://datsun1200.jp)